Better & Stronger default style.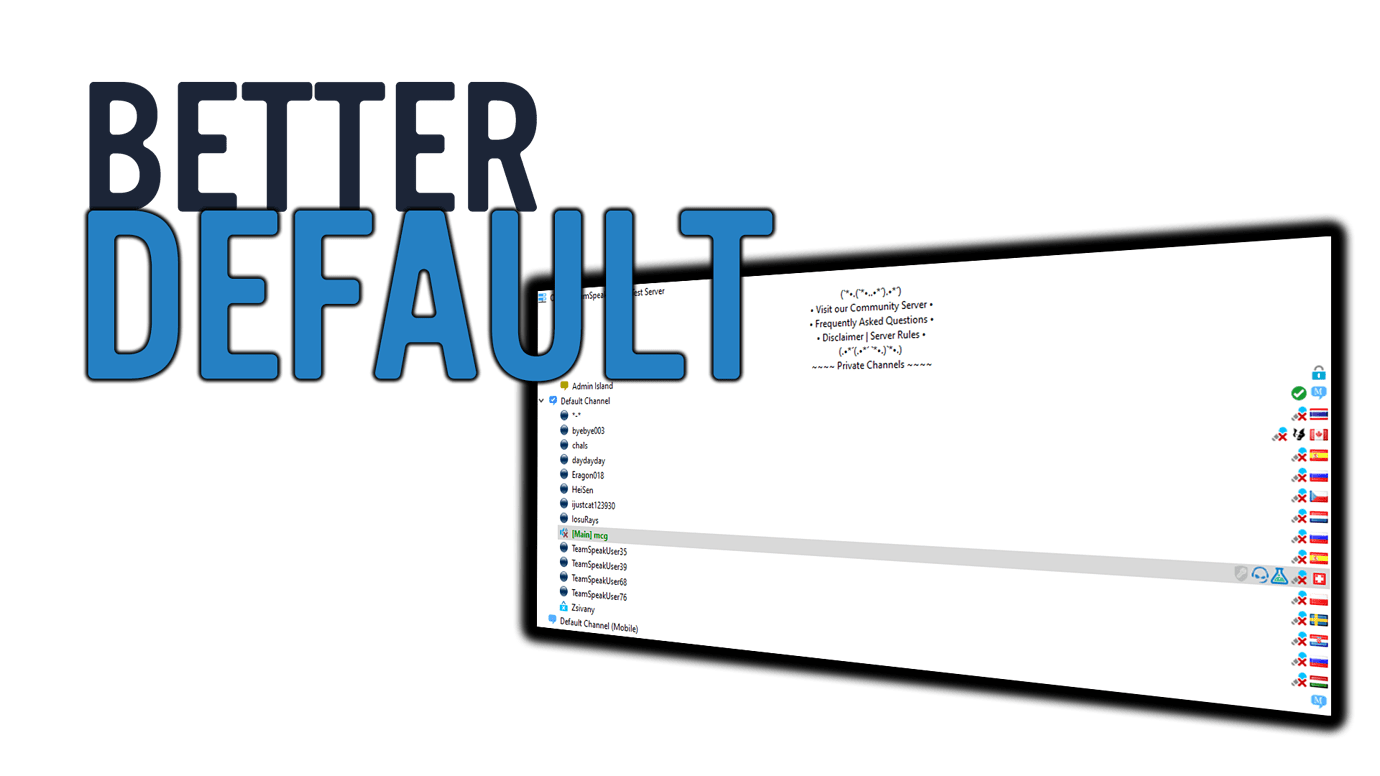 As you know, the main default style which is automatically installed in the client doesn't look so well, so I've made a style which will add more & useful informations and also alot of new miscellaneous.
What's new on the extended Informations?
I've added alot of extended informations and added some more miscellaneous
We'll start with the InfoFrame
Everything on the "InfoFrame" under the "Client, Channel & Server Info".
Clientinfo
Username
Version (Full, Short & Version Channel)
Platform
Online since
Volume Modifier
Client ID
Client UUID
Client Database-ID
Client myTeamSpeak-ID (shows only to registed users on myTeamSpeak)
First Connected
Last Connected
Total Connections
Country (Text)
Country (Flag)
Client "Away" (AFK) message
Client requested Talkpower message
Client requested Talkpower time (displayed)
Supporting languages: english and german
Channelinfo
Channel Name
Channel Full Name (also includes [spacer] for example)
Channel Icon
Channel ID
Channel Creation ID (Order)
Audio Codec
Audio Bitrate
Properties
Current Clients
Moderated (YES/NO)
Needed Talk Power
Audo Transmission (shows the encryption)
Open File Browser (will open the file browser directly after one click)
Channel Description
Supporting languages: english and german
Serverinfo
Server Name
Registed Nicknames
Address & Port
Version
Platform
License
Uptime
Server Icon
Server UUID/UID
(Server) ID
Current Clients example: (24/64 (-3 reserved))
Current Queries
Total Client Connections
Total QueryConnections
Current Channel
Supporting languages: english and german
More
Added new & improved buttons
Added better tooltips
Added alot & useful extended informations (see above)
Added custom & smooth ScrollBar
Actually...
I hope that you'll enjoy this default style in a better way...